Dr. Samrat Jankar

MBBS, MS, FMAS and DNB (surgical gastroenterology)
Surgical Gastroenterologist, Advanced Laparoscopic Surgeon, Abdominal Wall Reconstruction Surgeon
8+ years of rich experience
Book An Appointment
SYMBIOSIS UNIVERSITY HOSPITAL & RESEARCH CENTRE
SUHRC Symbiosis University Hospital & Research Centre Dnyan Marg, Mulshi Rd, Lavale, Pune.
Contact : 079041 39064
Timing: Monday - Saturday, 10:00 to 4:00 pm
PUNE COLORECTAL & GASTRO CARE
Office Number 219, 2nd Floor, Solitaire Business Hub, Kalewadi Phata, Wakad, Pimpri-Chinchwad, Landmark: Opposite Hotel Ambience, Pune
Contact : 09500947805
Timing : Monday - Saturday 6:00 to 9:00 pm & Sunday, 11:00 - 2:00 pm
Dr. Samrat Jankar is a highly qualified and efficient gastroenterologist and gastrointestinal surgeon in Pune. He has gained immense knowledge and extensive exposure to a broad range of gastrointestinal surgeries during his training at the renowned GEM Hospital and Research Center, Coimbatore, Tamil Nadu.
Dr. Jankar specializes in investigating and treating all gastrointestinal problems and is an expert in advanced laparoscopic surgery, GI cancer surgery, colorectal surgery, bariatric surgery, and abdominal wall reconstruction (complex hernia) surgery.
He is a competent gastroenterologist in Pune, having a keen interest in upper GI endoscopies and colonoscopies. In his career, he has gained vast experience and expertise in managing hundreds of complex cases with positive outcomes.
Currently, he is a lead consultant and Head of the Minimally Invasive Surgery and Surgical Gastroenterology Department at Symbiosis University Hospital and Research Centre, Lavale Pune. He was instrumental in setting up the Minimal Invasive & Surgical Gastroenterology Department. Years of training and experience are needed to become an expert in your field. The same holds true for Dr. Samrat Jankar, one of the best gastroenterologists in Pune who relentlessly worked hard to gain in-depth knowledge in his specialization.
Main specialties and surgeries offered by Dr. Samrat Jankar (Gastroenterologist in Pune)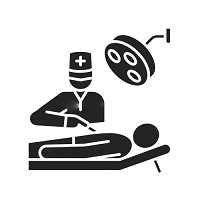 Gastrointestinal Surgery
Gastrointestinal surgery involves performing surgical procedures to treat the digestive system's issues and conditions, including the esophagus, liver, gallbladder, pancreas, stomach, small intestine, large intestine, and rectum.
Dr. Samrat Jankar, a seasoned gastrointestinal surgeon in Pune, has extensive knowledge and expertise in treating gastrointestinal disorders using advanced surgical techniques. Moreover, Dr. Samrat may treat both malignant and noncancerous growths in the gastrointestinal system. This includes the colon and other gastrointestinal malignancies, hernia, gallbladder diseases, GERD, IBS, rectal prolapse, and other gastrointestinal issues.
Colorectal Surgery
Colorectal surgery comprises various procedures such as colectomy, splenectomy, fissure repair, fistula repair, gastric resection, hemorrhoidal excision, colon resection performed to treat various colon and rectal conditions. Colon and rectal disorders include minor to life-threatening conditions and issues.
Dr. Samrat Jankar specializes in colon and rectal diseases diagnosis and treatment. He is also renowned for his skills in colorectal surgeries. He is also an expert in colonoscopies and endoscopies. Moreover, Dr. Jankar is skilled in making the proper diagnosis, which aids in bettering treatment outcomes and survival rates. With phenomenal success, he can treat all colorectal disorders, from IBS to
to colon cancer and rectal cancer.

Robotic Surgery
Robotic surgery has gained immense popularity in the minimally invasive treatment of gastrointestinal conditions. In this approach, the surgeon controls the robot rather than operating on its own. Robotic technology offers accurate and flexible handling of a wide range of complicated procedures while maintaining a high level of control. Compared to traditional surgery, it has proven to be superior.
Dr. Samrat Jankar is considered one of the best gastroenterologists in Pune because he has performed more than 50 robotic procedures. Laparoscopic or minimally invasive surgery is a well-known type of robotic surgery. Dr. Jankar has immense expertise and experience in conducting robotic surgeries.
Laparoscopic Surgery (Minimal Access Surgery)

Laparoscopic surgery, often called minimal access surgery, is one of the most recent and effective robotic surgeries. The surgeon in conventional open surgery makes a single large incision to operate. On the other hand, in laparoscopic surgery, the surgeon makes several small incisions ranging from 0.5 to 1 cm in length.
Laparoscopic surgery is one of Dr. Samrat Jankar's key specialties. He is one of the leading gastroenterologist in Pune with extensive experience in minimally invasive procedures. It is the preferable approach because it involves small incisions, is less painful, has a lower risk of infection, requires a shorter hospital stay, and has a faster recovery time. Moreover, Dr. Jankar can perform all gastrointestinal procedures with minimum access.
Our Expertise Areas
Bariatric Surgery
Bariatric surgery is a procedure that modifies your digestive system to help you lose weight. This surgery is indicated if you are unable to lose weight through exercise and nutrition or are experiencing major health problems due to your excess weight. This surgery will help you lose weight by limiting your food intake and the amount of nutrients you can absorb.
These procedures aim to alter the stomach and intestines to treat obesity and other disorders. The surgery may cause the stomach to shrink, and a part of the intestine to be bypassed. This leads to a decrease in food intake and a shift in how the body absorbs food for energy, reducing hunger and more fullness. These procedures help the body acquire and maintain a healthy weight.
Laparoscopic Surgery
Laparoscopy has become one of the most popular minimally invasive surgery for abdominal, intestinal, and pelvic treatments in the last decade. Laparoscopy, also known as keyhole surgery, allows a surgeon to view the inside of the abdomen (tummy) and pelvis without making large skin incisions. Thanks to this modern surgical technology, the surgeon has more control and vision during the procedure.
Colorectal Surgery
The use of surgical procedures for the diagnosis and/or treatment of problems and anomalies of the anus, rectum, and colon is known as colorectal surgery. These conditions include malignancies of the colon and rectum, fecal incontinence, and hemorrhoids.
Dr. Samrat Jankar, a renowned laparoscopic and colorectal surgeon in Pune is highly skilled in procedures like laparoscopic hemicolectomy, laparoscopic anterior resection, laparoscopic APR, laparoscopic total proctocolectomy, laparoscopic rectopexy, laparoscopic diverticulitis surgery, stapler haemorrhoidectomy, laser proctology, and complex fistula surgery such as LIFT.
Laser Proctology
Laser proctology is the surgical treatment of the colon, rectum, and anus conditions using laser techniques. A laser is a light beam of high energy used to burn or cut the abnormality, which was the purpose of the surgery. Both women and men are increasingly undergoing this procedure to address piles. Hemorrhoids, fissures, fistulas, pilonidal sinus, and polyps are common conditions treated with laser proctology.
Laser treatments are now far more advanced and safer; they leave no scars, are bloodless, and are far less unpleasant. They also have lesser side effects.
Why Choose Us?
Highly experienced: Dr. Samrat Jankar, an expert gastroenterologist in Pune, has years of rich experience and training in his chosen field. He offers exceptional treatment with gentle and compassionate care to his patients, ensuring their quick recovery.
Advanced surgical treatments: His commitment to learning advanced and latest surgical techniques and incorporating them into all treatments ensures that each patient receives the most effective, safe, and appropriate treatment possible.
Clear communication: Dr. Jankar believes in the importance of communication and takes the time to explain medical illnesses and treatments to his patients so that they have a thorough understanding of their health concerns.