Parenting is a journey where you will experience things you were not expecting, particularly when your child is ill. When a child has blood in their stool or vomit, this is known as gastrointestinal (GI) bleeding, and it is one of the most frightening circumstances for parents.
GI bleeding affects about six out of every 100 adolescents. The causes can range from relatively minor conditions like swallowing blood after a nosebleed to more severe disorders like GI ulcers.
Gastrointestinal bleeding, if left untreated, can result in anaemia, shock, and even death in the most severe cases. That's why it is necessary to consult a doctor immediately and discuss your child's symptoms with them in order to determine when and why the bleeding began.
Dr. Samrat Jankar, an experienced gastroenterologist in Pune, is an expert in treating gastrointestinal bleeding in adolescents and helps them feel better faster.
Book an appointment with him for precise and advanced gastric treatment in Pune.
Symptoms of gastrointestinal bleeding
Gastrointestinal bleeding is a sign of sickness rather than a disease itself. The reason for bleeding could be a treatable disease or a symptom of something more severe.
The symptoms you experience depend on where the bleeding occurs in your digestive tract and whether it is acute or chronic. Visit Dr Samrat Jankar, a famous gastroenterologist in Pune, if your child suffers from these symptoms:
Bright red vomit
Stools that are dark brown, black, or red
Abdominal cramping
Paleness
Fatigue
Diarrhoea
Shortness of breath
The following symptoms need immediate attention, so contact the doctor ASAP:
Light-headedness
High fever
Inconsolable crying
Dehydration (decreased urine output, weeping without tears)
Unresponsiveness
Constant bleeding from the anus or mouth
Causes of gastrointestinal bleeding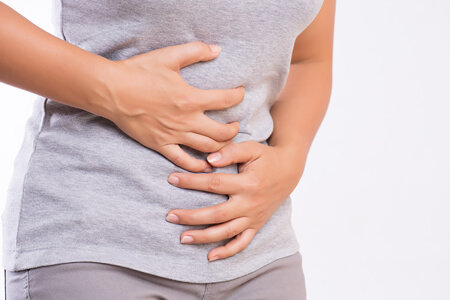 The gastrointestinal tract consists of the oesophagus, stomach, small intestine, large intestine, rectum, and anus. The causes depend on where the GI bleeding occurs in the digestive system.
Upper GI bleeding:
Esophagitis due to GERD
Varices
Tears near the inner lining of the esophagus
Peptic ulcers
Cancers
Lower GI bleeding :
Benign or cancerous tumors
Diverticular disease
Polyps
Inflammatory bowel disease
Anal fissures
Dr Samrat Jankar, a surgical gastroenterologist in Pune, is known for his accurate diagnosis and advanced treatment options. He has successfully treated hundreds of cases of gastrointestinal bleeding in adolescents.
Treatment options for GI bleeding
The gastrointestinal bleeding normally ceases on its own. If not, the treatment will be determined by the location and origin of the bleed.
In some instances, drugs or preventive measures are used to stop bleeding while performing the tests.
An upper endoscopy, for example, might sometimes be used to treat a bleeding peptic ulcer or to remove polyps during a colonoscopy. An IV medicine known as a proton pump inhibitor (PPI) can reduce stomach acid production in the case of an upper G.I. bleed, which helps control the situation and give the doctor some extra time.
Once the cause has been identified, the doctor will decide on the next steps and whether or not they should continue the proton pump inhibitor.
Further, the doctor will determine whether fluids should be delivered by IV or not based on the quantity of bleeding that has occurred or is occurring.
In some circumstances, the patient may require a blood transfusion.
If the patient uses blood thinners, such as nonsteroidal anti-inflammatory drugs or aspirin, they should discontinue taking them immediately.
In case of a peptic ulcer, the healthcare professional may prescribe medicines and suggest a change in lifestyle and diet. Surgical intervention may be required, especially if a tumour or polyps cause the bleeding or endoscopic treatment fails.
Dr. Samrat Jankar is the most preferred surgical gastroenterologist in Pune for his expertise in all surgical modalities, including minimally invasive surgery. He specializes in colonoscopies and upper GI endoscopies.
Schedule an appointment with him for all gastric-related issues. He is the Head of Department for Minimally Invasive Surgery and Surgical Gastroenterology at Symbiosis University Hospital and Research Centre, Lavale, Pune.
In the event of severe gastrointestinal bleeding in adolescents, rush them to the hospital's EMERGENCY department without delay, as it could be a matter of life and death.